Friday, August 24, 2018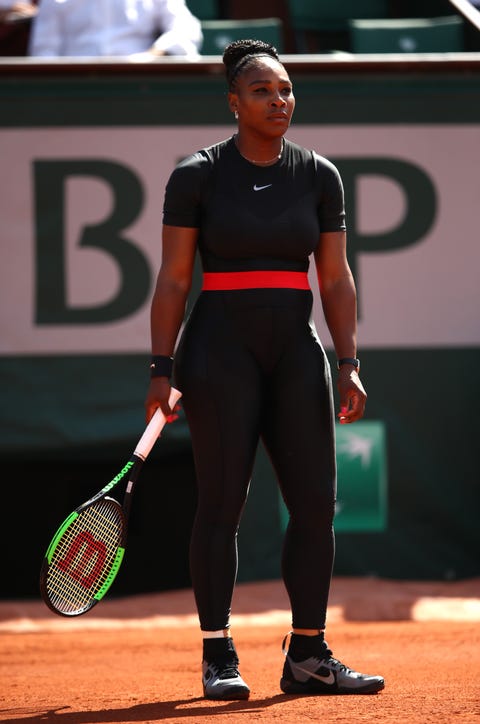 American Serena Williams at 2018 French Open in grand slam return after giving birth.
Where is Childish Gambino, I need a "This Is Tennis" track - better still, "These Are Sports"!!!
In an interview for Tennis Magazine, French Tennis Federation President Bernard Giudicelli announced that the French Open will be introducing a new, more restrictive dress code stating, ''I think that sometimes we've gone too far" and "[the catsuit] will no longer be accepted. One must respect the game and the place.''
Wow... Wow... Wow...
HOW IN THE HELL DOES SERENA WILLIAMS E-A-R-N 23 Grand Slam Titles and have no respect for the game of tennis?
And if clothing is any indication of a player's respect for the game, based upon what I've seen MANY other players clothe themselves in over the years, respect would have to be absolutely the lowest rung on the ladder of respect for tennis.
The greater majority of tennis players express their individuality, fashion persuasion, culture, personal likes/dislikes, and/or support for a great number of things/issues in the outfits that they choose to wear for tennis tournaments. Yet it wasn't until the great Serena Williams graced the courts of France in an outfit that supported her grand-slam return with a two-fold purpose, that whatever bias, discriminatory beliefs, jackassness or foolishness (there's more I'm sure) that Giudicelli has towards this Queen of the game, find what is obviously deemed a legitimate opportunity to change the rules of the game in France, while accusing Serena Williams of being the impetus for the change.
Didn't like her catsuit? Ever heard of a damn cell phone? DM? Coach? Hell, a note!!
Or, was this simply an opportunity to get some conversation going with the non-great name of Bernard Giudicelli in it? Whatever the reasoning, you can rest assured that your disrespect of Serena Williams is now on the table.
F-A-U-L-T!!
Always remember, Karma is a bonefide...!!
Posted by Shelia
Email this post